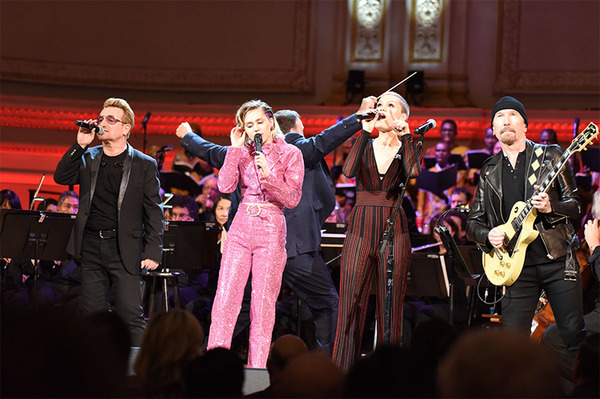 Cathleen Falsani, longtime fan of the band and ONE Campaign activist, reports on Tuesday night's Carnegie Hall celebration of ONE and (RED) to mark World AIDS Day.
'The old joke goes something like this: A musician walking down Manhattan's 7th Avenue stopped a passerby and asked, "How do you get to Carnegie Hall?"
The cheeky New Yorker answered, "Practice, practice, practice."
For Bono and the organizations he co-founded—ONE and (RED)—the answer Tuesday night in New York City's historic music venue was, "Progress, progress, progress!"
Joined by the Edge, Hozier, Jesse J, Miley Cyrus, Stephen Colbert, Sting, Trevor Noah, and a host of other artists and dignitaries—including U.S. Vice President Joe Biden, former President Bill Clinton, and Bill and Melinda Gates—for an evening celebrating "the possible," Bono lauded the decade of astounding progress made by the organizations and their supporters toward eradicating HIV/AIDS and ending extreme poverty.
"This is not a charity concert. Justice takes centre stage tonight," he told the Carnegie Hall audience. "Justice calls us to a higher standard...This is an instigation. This is a provocation."
"It always seems impossible until it's done," he added, quoting the late Nelson Mandela. "That is the theme tonight... There is no first world. There is no third world. There is only one world."
Since the inception of ONE and its predecessor DATA (Debt, AIDS, Trade, Africa) in 2002, more than 15 million people around the world are now on life-saving antiretroviral drugs—up from 700,000 in 2000.
Other signs of progress in the battle against AIDS and extreme poverty include:
Eight-million AIDS-related deaths prevented because the world took action.
Nearly three-quarters of all HIV-positive pregnant women now have access to treatment that prevents the virus being transmitted to their children in utero.
And resources allocated for AIDS prevention, education, and research have increased by more than 400 percent, from $4.8 billion in 2000 to $20.2 billion last year.
60 million more children are enrolled in school now than in 2000 because of debt cancellation
"That's justice, not charity," Bono said.
But the night wasn't all speeches and data. It was a celebration filled with music that elevated the mind and the spirit. Jesse J brought the house down with her song "Who You Are," and a spectacular rendition of Prince's "Purple Rain." Miley Cyrus performed several songs, including a new tune she'd just written (the lyrics were still on her cell phone) titled, "Pablo the Blow Fish" (Yes, really).
On a serious note, Cyrus, who recently turned 23, said: "I know I will live in an AIDS-free world one day, and I look forward to that."
Colbert, who introduced the work of the Gateses who, along with former NYC Mayor Michael Bloomberg, Dr. Mo Ibrahim, and Dr. Ngozi Okonjo-Iweala—were the official honorees at the Carnegie event - put it best when he said: "Poverty is a jerk."
Backed by the Orchestra of St. Luke's, the house band for the evening, Hozier performed his hit "Take Me To Church," and later joined Bono and Edge in another show stopper, "When Love Comes To Town."
The pair also performed an intimate, stripped-down version of "Every Breaking Wave," "Stuck in a Moment," and perhaps the musical highlight of the night, a smashing rendition of "Angel of Harlem," backed by a choir from the Democratic Republic of Congo, the Orchestra Symphonique Kimbanguiste.

"I Still Haven't Found What I'm Looking For" had everyone in the grand venue on their feet, as Bono reminded us that even though much has been accomplished in the fight against AIDS and extreme poverty, there's still much to be done.
The evening ended as it began, with "One," and the reminder that "there is no them, only us."
As ONE and (RED) have proven, together, anything is possible.'
Cathleen Falsani is an American journalist, author, and longtime ally of the ONE Campaign, where she serves on the organization's advisory board for girls and women. She saw her first U2 show in Chicago about 15 years ago and has seen several dozen since then.