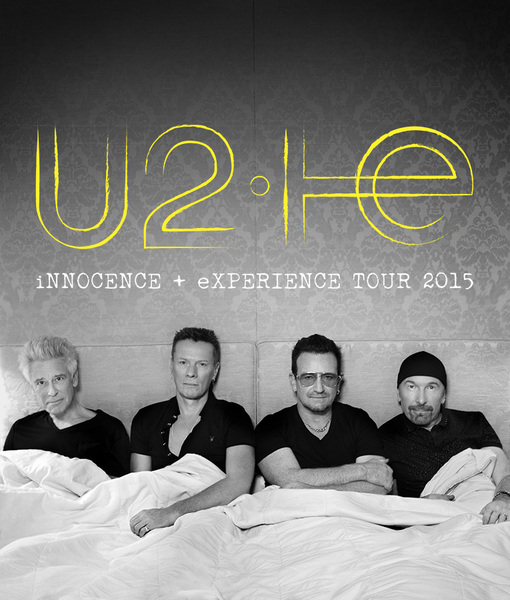 U2 iNNOCENCE + eXPERIENCE Tour 2015
Tickets on general sale this morning.
9am local for shows in Turin, Stockholm, Berlin, Antwerp, Koln, London and Glasgow.
10am for Amsterdam and Paris.
Barcelona tickets on sale tomorrow, Tuesday, at 10am.
North American dates all on sale at 10am local time today.
Dates and cities and
ticket links here
.
NORTH AMERICA 2015
May 14th, Vancouver, BC, Rogers Arena
May 15th, Vancouver, BC, Rogers Arena
May 18th, San Jose, CA, SAP Center at San Jose
May 19th, San Jose, CA, SAP Center at San Jose
May 22nd, Phoenix, AZ, US Airways Center
May 23rd, Phoenix, AZ, US Airways Center
May 26th, Los Angeles, CA, Forum
May 27th, Los Angeles, CA, Forum
May 30th, Los Angeles, CA, Forum
May 31st, Los Angeles, CA, Forum
June 12th, Montreal, QC, Bell Centre
June 13th, Montreal, QC, Bell Centre
June 24th, Chicago, IL, United Center
June 25th, Chicago, IL, United Center
July 6th, Toronto, ON, Air Canada Centre
July 7th, Toronto, ON, Air Canada Centre
July 10th, Boston, MA, TD Garden
July 11th, Boston, MA, TD Garden
July 18th, New York, NY, Madison Square Garden
July 19th, New York, NY, Madison Square Garden
July 22nd, New York, NY, Madison Square Garden
July 23rd, New York, NY, Madison Square Garden
EUROPE / UK 2015
Sept. 4th, Turin, Italy , Pala Alpitour
Sept. 5th, Turin, Italy, Pala Alpitour
Sept. 8th, Amsterdam, The Netherlands, Ziggo Dome
Sept. 9th, Amsterdam, The Netherlands, Ziggo Dome
Sept. 16th, Stockholm, Sweden, Globe
Sept. 17th, Stockholm, Sweden, Globe
Sept. 24th, Berlin, Germany, O2 World
Sept. 25th, Berlin, Germany, O2 World
Oct. 5th, Barcelona, Spain, Palau Sant Jordi
Oct. 6th, Barcelona, Spain, Palau Sant Jordi
Oct. 13th, Antwerp, Belgium, Sportpaleis
Oct. 14th, Antwerp, Belgium, Sportpaleis
Oct. 17th, Koln, Germany, Lanxess Arena
Oct. 18th Koln, Germany, Lanxess Arena
Oct. 25th, London, UK, O2
Oct. 26th, London, UK, O2
Oct. 29th, London, UK, O2
Oct. 30th, London, UK, O2
Nov. 6th, Glasgow, UK, The SSE Hydro
Nov. 7th, Glasgow, UK, The SSE Hydro
Nov. 10th, Paris, France, Bercy
Nov. 11th, Paris, France, Bercy