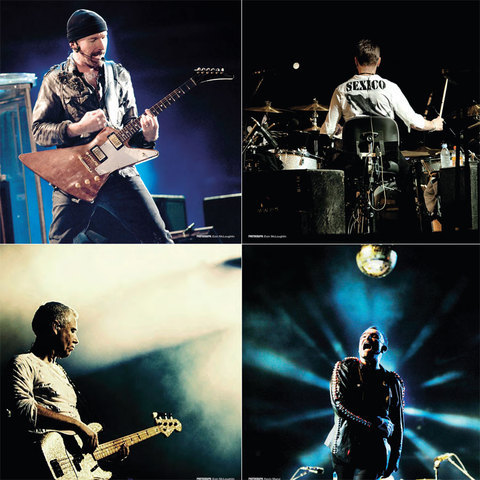 'I'm so happy! I cried a lot when Unknown Caller didn't enter the U22, but now I'm euphoric!'

'Definitely the best fan club release to date. U2 truly knows how to take care of their fans.'

'I'm so excited to get this CD. this was my 1st concert, even tho I've loved u2 forever, what an awesome way to remember.'

'Cant wait to get my cd from the best live band of all time.
'
With the imminent release of the double-live CD from U2360°, the anticipation is rising and people are posting some great comments. In the countdown to release we're adding information about U22 to the site every day
Take a look at this new gallery collecting the
live video clips
from different songs. And check out these
sneak preview images
from the deluxe book that comes with U22.
And in case you missed it, here's the tracklisting. Is it the one you predicted ? Tell us what you think in the comments below.
U22 - THE DOUBLE-LIVE CD FROM U2360°
22 TRACKS SELECTED BY U2.COM SUBSCRIBERS
DISC ONE
1. EVEN BETTER THAN THE REAL THING
2. THE FLY
3. MYSTERIOUS WAYS
4. MAGNIFICENT
5. UNTIL THE END OF THE WORLD
6. I STILL HAVEN'T FOUND WHAT I'M LOOKING FOR
7. STAY (FARAWAY, SO CLOSE!)
8. ONE TREE HILL
9. BEAUTIFUL DAY
10. ELEVATION
11. BAD
DISC TWO
12. ALL I WANT IS YOU/LOVE RESCUE ME
13. THE UNFORGETTABLE FIRE
14. ZOOROPA
15. CITY OF BLINDING LIGHTS
16. MLK/WALK ON
17. ONE
18. WHERE THE STREETS HAVE NO NAME
19. ULTRA VIOLET (LIGHT MY WAY)
20. WITH OR WITHOUT YOU
21. MOMENT OF SURRENDER
22. OUT OF CONTROL