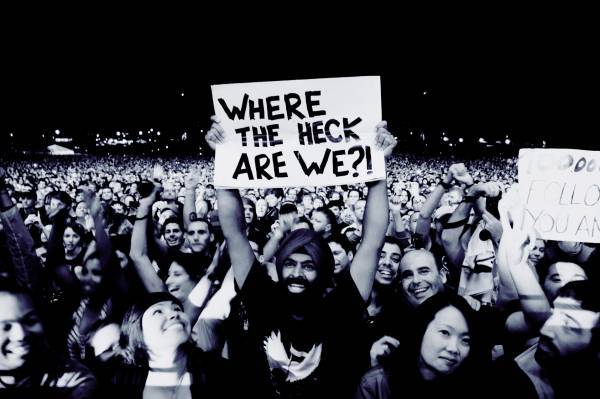 'Bigwave' - John Noble in real life - is one of the hosts of the buzz in
Zootopia
, our community site. For the duration of U2360° he gave up sleep - tuning in to the show on obscure audio feeds, following on Twitter and hosting our own live fan commentary.
John got to know the tour and the songs pretty well so here's his personal tracklisting for
'U22'.
Has he caught it - or does he need more sleep? Let us know in the comments below.
'Pick your own personal U2 setlist ? Nah never gonna happen.
Have it released as a fan club only double CD ? Yeah, right! In your dreams.
Oh! right. Well... here goes then!
And this is just for me without consideration of any other single soul, it's U2 performing purely to an audience full of me... right?'

1. Return Of The Stingray Guitar
2. Where The Streets Have No Name
3. Get On Your Boots
4. Out Of Control
5. I Will Follow
6. Spanish Eyes
7. Zooropa
8. Miss Sarajevo
9. All I Want Is You
10. Unknown Caller
11. Even Better Than The Real Thing
12. Electrical Storm
13. One Tree Hill
14. Mothers Of The Disappeared
15. Sunday Bloody Sunday
16. Bad
17. Walk On
18. One
19. Ultraviolet
20. With Or Without You
21. I Still Haven't Found What I'm Looking For
22. 40
All this takes me back to every single show, mainly sitting at my mac following online with many thousand of others, every setlist, every dodgy audio feed, tweet, setlist update.
Into the early hours and daylight many nights: 'What time is it in the world?' Showtime!

So this would be me dream setlist. Kicking off with heavy pogo-style artillery then mellowing into the soulful centre, and gearing up towards the almighty spine tingling.

Standout tracks a-plenty. Lots of stuff that truly stunned fans when they heard it coming out of the Claw. Twitter-busting Zooropa perhaps being the most surprising.

Of course, this is what my #setlist REALLY should look like...
#U2360U22
1. Stingray 2.Streets 3. Boots 4. OOC 5. IWF 6. Spanish Eyes (whey-hey-hey!) 7. Zooropa 8. Miss S 9. AIWIY 10. UC 11. EBTTRT 12. ES 13. OTH 14. MOTD 15. SBS 16. BAd 17. Walk On 18. One 19. UV 20. WOWY 21. ISHFWILF 22. 40
#Happydays
(Follow John on Twitter: @_Bigwave_ )