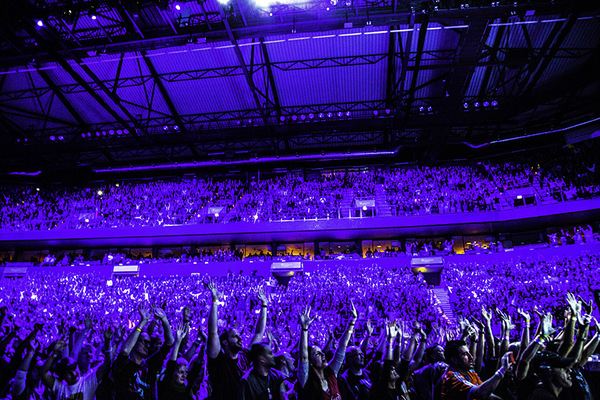 'Zoo Station' in Hamburg
'We loved it before unification and we loved it even more after… the rest of Europe is in awe of this country don't you forget it.'
Second night in Hamburg and more reflections on the influence of this great country on one of the band's great albums.
When & Where
Second and final night, Barclaycard Arena, Hamburg, Thursday 4th October 2018.
Set List
'We loved it before unification and we loved it even more after… the rest of Europe is in awe of this country don't you forget it.' Second night in Hamburg and more reflections on the influence of this great country on one of the band's great albums (Achtung Baby for those not paying attention.) 'ZooTV for the millennials' as one fan put it this week, might sum up the current direction of travel of the show…
'In the cool of the night
In the warmth of the breeze
I'll be crawling around
On my hands and knees…'
'Four boys becoming men. Trying to escape our innocence which is not that difficult...holding onto it is that much harder.'
'She's just down the line ... Zoo Station
Got to make it on time ... Zoo Station…'
Another rarity for this European tour leg : Gloria, returns to keep the crowd bouncing after I Will Follow. Here is the full setlist from Hamburg 2.
On The Fansites
Oliver (@u2tourZargor on Twitter) from German mega fansite @U2Tour, was there both nights with some of the U2Tour crew. "When U2 is in town in Germany, so are we" he told us. He sent us this to sum up the two magical nights in Hambug.
'U2 returning to Hamburg after 33 years - with a bang! The first Hamburg concerts, taking place on German Unity Day and 28 years after U2 came to Berlin for their "Achtung Baby" seasons, set the perfect frame for two incredible nights.
Bono referenced this special holiday and the band's stay in Berlin several times during that first night. He introduced "Zoo Station" by saying "Gut gemacht, Deutschland" (Well done, Germany) and "We came to Berlin for inspiration for our music. And left with inspiration for our life". The audience thanked him with frenetic applause. When the band then played an utterly energised version of "Who's Gonna Ride Your Wild Horses" (during which Larry even lost a drum stick due to the level of energy), it was not only the band but the complete audience that was "on fire". MacPhisto, most certainly, also made his way to Hamburg. But his speech "I love walls, I hate bridges [...] 'All You Need Is Love', what a load of bollocks. All you need is Schadenfreude (malicious joy)" did not dampen the atmosphere. On the contrary: the audience seemed to understand the irony and went along. After 2.5 hours, a brilliant concert at the Barclaycard Arena endet and people, still under the impression of the eXPERIENCE, were singing U2 songs on their way from the arena to the train station. A little nice side note: there was this little boy of about 7-8 years with a "Larry, may I have your drumsticks?" sign. And he really got them! U2 fans - the next generation! A U2 concert in Germany - could there be any better place to be on German Unity Day? No! The band has a long history with this country (and its politics) and when Bono says that he loves Germany, it DOES ring true!'
Day 2: London, Belfast and ... Hamburg
And they did it again the second night: commemorating their time in Berlin, "Zoo Station", "Stay" and "Who's Gonna Ride Your Wild Horses" appeared again in the setlist while "Gloria" replaced "Red Flag Day". The audience honoured the trip through the 80s (incl. "I Will Follow") with great enthusiasm. In Cologne in 2015, Bono said "I should improve my German". And he did! When talking to the audience, Bono said many things in German which was celebrated by the fans. During the encore, One was also dedicated to their own Berlin heroes David Bowie, Iggy Pop, Nick Cave and Wim Wenders. A trip down memory lane. After waiting more than 30 years, Hamburg got two truly extraordinary and very emotional concerts. Thank you, U2, and please do not wait another 33 years to return to Hamburg! A beautiful city and beautiful audience are waiting here for you!
U2tour.de concert review (in German):
On The Socials
@amubalt (via Twitter) 'Zoo material really is back for the rest of this tour, isn't it? O.M.G.'
Anke-Britt Carstens (via Facebook) 'U2 can only be topped from U2.... Thanks for two great shows in Hamburg Have a break after this tour ...but please come back.'
@Steffica (via Instagram)m 'Concerts 11+12 with Gloria + Zoo Station - great surprises. Bono had a lot of fun with us in the first row jumping and singing along. Plus a handshake with Edge and autograph from Adam and Edge makes it even more special. That's when you realise how much you love this band!'
What Did Macphisto Say?
"Please allow me to introduce myself, I'm a man of wealth and taste
I've been around for many a long year, drove many a man's soul to waste
I was down in Chemnitz town when the vandals of hope were put right
Nazi salutes and fireworks, resplendent on a Summer night
Pleased to meet you, hope you guessed my name…"
"17 years of peace in Europe.. I've never been so bloody bored!"
"I was thinking about relocating to London… but… I might just stick around here!"
Were you in the house tonight ? Post your reviews and add your photos here.