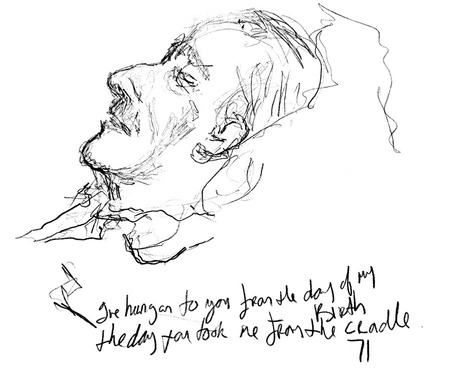 'From father to son / In one life has begun
A work that's never done / Father to son.'
(Dirty Day, U2)
That's the Father's Day present sorted! Sons and Fathers, a new collection of essays, features 53 famous sons reflecting on their relationship with their dads. Bono, Larry, Edge and Adam have all contributed, as well as Paul McGuinness, his own son Max, and Gavin Friday - and
proceeds from the book's sales will go towards the Irish Hospice Foundation
, and Hospice Africa Uganda.
"Bono planted the seed for this book with his gift of the tender drawings he made of his father towards the end of his life, when words had ceased," writes Sharon Foley, the CEO of the Irish Hospice Foundation, in a preface which explains the genesis of the project. Bono's father Bob Hewson had been cared for in a hospice during his final days, and the singer afterwards offered his drawings to help raise money for the foundation.
"I had taken to drawing him as he slept," Bono writes in his own essay, "... to meditate on what a special, talented man I had been given for a father."
The book itself reads like an expanded meditation on that unique and often testing bond between a father and son. Bill Clinton contributes (agonisingly, his own father died three months before the president was born; "I always missed the most important person I never met," he confesses)... along with the likes of Paul McCartney, Julian Lennon and Daniel Day-Lewis.
In a moving reflection, Sting reveals that he'd waited all his life to get a compliment from his father - and finally received one as his dad lay dying. "'We have the same hands, Dad, look.' I am a child again, desperately trying to get his attention. He looks down ... 'Aye, son, but you used yours better than I used mine.'" As Colm Tobin puts it in his introduction, "It is the job of the son to live in the shadow of his father's dreams, sometimes to fulfill them ... or indeed outshine."
Bono describes the father/son relationship as a dance, but it's more akin to boxing than ballet. "We danced until his death, the ancient ritual of son versus father," he says.
And this dance - played out in so many intriguing contexts within the book - seems universal, which is perhaps why the collection feels as powerful as it does. For Paul McGuinness, the context was World War Two; his dad flew missions for the Royal Air Force's Bomber Command.
"What it was like," he asks, "for a kid of twenty-one to fly off in a Lancaster bomber with primitive navigational equipment, responsible for his crew's lives, responsible for finding their destination, being shot at by enemy aircraft, dodging flak, seeing other planes hit and destroyed, is unimaginable. He must have been terrified. I'm sure he was affected by it for the rest of his life," he reflects.
For Edge, the formative moments came in altogether more peaceful surrounds, in the countryside, while... fishing. "It was an important time for my father and me but the connection made between boy and nature has also remained," he recalls. "I still love to go into the wilderness to reconnect with - exactly what I don't know. Maybe the idea of a primal existence and a more natural pace of life... Maybe it's to finally catch the one that got away."
Adam's dad Brian Clayton is "a practical man", in his son's eyes. "He is not naturally affected by music or art and I think," Adam writes, "he believes that getting in touch with his feminine side was listening to my mother."
Nevertheless, when Adam wanted to get his hands on a decent bass (to succeed his first, ineffective guitar), it was Brian who - on one of his regular trips to New York - was commissioned to head into Manny's of 48th Street to track down a Fender Precision. "I often think of what it was like for him to enter that music shop," Adam, says, "and, armed with only a little information, engage with a salesman and hope to be treated fairly and respectfully. I wonder how it was for him to carry it back to Dublin explaining to work colleagues that it was an electric bass for his son Adam, 'who couldn't really play it'."
Larry admits to struggling with his own contribution - which felt too much for him like writing an obituary, while his dad is still "very much alive" (and in his 91st year!). "Anyhow," he says, with characteristic economy of words: "I know he could write a far better piece about himself than I ever could. He still has a way with words. I still play the drums."
The cut-and-thrust between boys and men doesn't seem to diminish as these particular men grow older. (Neither does their fame prevent parental admonishment.) Larry admits that having bought his dad a laptop 10 years ago, he still receives "touching messages that usually include solid advice and the occasional well-intended blow to the solar plexus." You're never too old, it seems.
As Bono reflects in the book's foreword: "It's a mysterious thing, the relationship between fathers and sons ... " We certainly gain some telling glimpses here into the mysteries which have shaped some of these highly influential - and highly influenced - figures. As well as gaining a chance, perhaps, to reflect more upon our own.
Bob Hewson once told his boy: 'Your problem, son, is you're a baritone who thinks he's a tenor.' But Bono's own meditation on Bob yields an ever deepening conclusion:
"I have no scientific evidence to back up the claim that sometimes a close relation, in passing, bequeaths us a gift. Something to get us through. I can't explain this, but I do know that ever since my father died, my voice changed. I can sing those B's and A's with an ease I never had before. I am now a tenor pretending to be a baritone."
'The Child is father of the Man', as Wordsworth once put it. It's a work that's never done.
Sons and Fathers
can be pre-ordered here
.