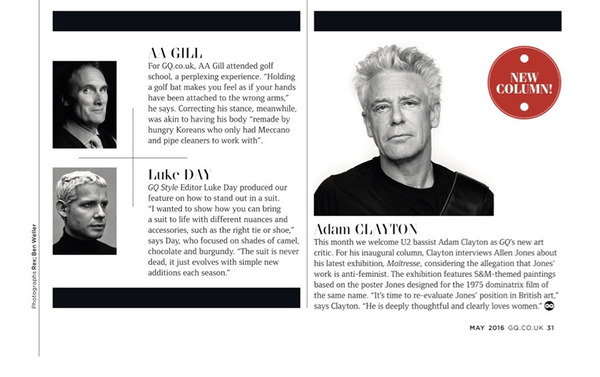 'Seeing Art'
"Seeing art shows, and figuring out what artist is going to make it, is very similar to the music business. The curators are almost like the music press and the galleries are a little bit like record companies…"
Speaking with John Kelly for the new series of RTE's The Works Presents, Adam reflected in detail about his life-long interest in art and painting.
At school the only subject he was good at was art. In one teenage art experiment, he drove around Dublin with Bono and Guggi, calling in on people unannounced to see if they wanted to buy one of his paintings. Art, recalled Adam, "seemed a lot more fun than going to college and getting my exams."
As it happens, the band took off and touring the world has enabled Adam to nurture his appreciation of art through meeting artists, taking in exhibitions and developing a passion for architecture. What has he learned? "A lot more poeple are interested in the arts than academia would suggest."
If you follow U2's Instagram account, you'll have noticed that he is rarely out of an art gallery and often posting images of contemporary artwork. On the U2ie Tour in 2014 Adam made several videos for U2.com Subscribers talking about artists and museums in different cities.
In the last year he's become a regular columnist writing about contemporary art for GQ Magazine. You can flip through some of his essays and interviews here - we'll add to it as more columns are published.
A conversation with Wolfgang Tillmans explores how fake-news has been predicted by contemporary artists, while Jeff Koons talks about how the music of rock acts like Led Zeppelin has informed his own work. Understanding the story of art helps explain contemporary culture.
As Adam concludes, in a feature with the legendary photographer William Eggleston. 'In the past 40 years since he blazed a trail with his stark, rich colours, we have moved from snapshots to Instagram. But if you want to understand why Instagram images are now being exhibited in major galleries, look up William Eggleston.