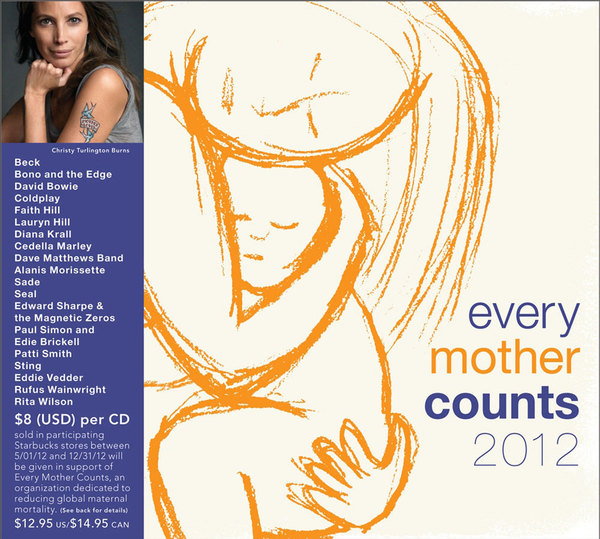 A new version of Original of the Species, recorded by Bono and Edge, features on a benefit CD produced by Every Mother Counts, raising funds to support maternal healthcare worldwide.
The 19-track CD, which includes songs by Paul Simon and Edie Brickell, Lauryn Hill, Eddie Vedder, David Bowie, Patti Smith and Coldplay, is on sale through Starbucks and $8 of every sale will be invested in life-saving maternal health programmes worlwide.
A woman dies every 90 seconds from complications in pregnancy but 90% of these deaths are preventable. While these deaths devastate children, families, and communities, maternal mortality is an issue that many people don't notice. Christy Turlington Burns founded Every Mother Counts to boost awareness of this crisis and - and of solutions which will improve life for women worldwide. She was inspired by her own experiences and the United Nation's
Millennium Development Goal
to reduce maternal mortality by 75% by 2015.
Every Mother Counts 2012, the second album to be released for the organization, is available exclusively at Starbucks during May in celebration of Mother's Day.
'I went to friends first, as I did with the first CD,' Christy told Rolling Stone. 'Bono and Chris Martin were great supporters of the project the first time around, and when I knew I wanted to include men on this album they were obvious choices. They are also both fathers to daughters.'
Speaking about 'Original of the Species', she said, 'Bono wrote the song with his daughters in mind. It's wishful and imparts the idea that, 'I'm here and I'm watching you take your steps forward and I'm supporting your independence, but at the same time, I don't want you to make mistakes.' Any parent can relate to that.'
Find out more about
Every Mother Counts
.
Get your
copy of the CD
.