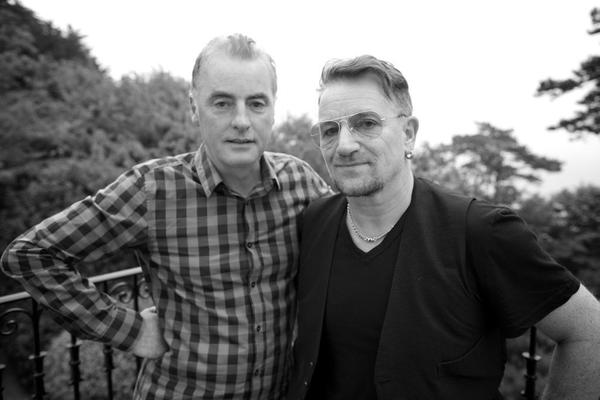 On Sunday, RTE broadcast a 2 hour 'Songs of Innocence' special in which Bono had a lengthy conversation with Dave Fanning.
Listen in on our Community pages
.
Dave has a special place in U2 folklore - not only has he been playing their music since the late 1970's but every time a new album arrives, he gets to air the lead track first. So if you haven't got time to listen to the whole of Sunday's show, here's
eight things we learned from Dave's chat with Bono.The release of Songs of Innocence via iTunes was the technological equivalent of fly-posting the band's lyrics all over Dublin back in the 1970s.
'Mrs Edge, our first roadie,' recalled Bono, 'Used to drive us in the VW Beetle in the middle of the night with rolls of wallpaper with the lyrics of our songs, and all sorts of things on, and we used to fly-post all over Dublin, aged 18 or 19. The whole point of being in a band, in the days of punk rock, was to be in your face. Even if you weren't looking for us, we were there.'
With Songs of Innocence, he explains: 'People who would not normally be exposed to our music have got a chance to listen to it. Whether those songs will be important to them in a week's time, we don't know. But they've got a chance - and that's got to be exciting for a band that's been around for as long as we have.'
Songs Of Innocence is not an experimental album. It's about songs.
'Why is it not like Zoo Station? Why is it not like Zooropa? It is not an experimental album. It is easy for me to blow your mind sonically. We can play with the desk and set off fireworks - U2 can do that all day. But this is about songs, which is a much more difficult thing to pull off... The production is not what we were about here. We were about getting out of the way of the songs.'
'Iris', written about Bono's mother, contains a name-check for Kraftwerk.
'My mother [died] just as I was discovering girls. One of the girls I was discovering was Ali... she arrived at Mount Temple in the same month. The first lover's gift I gave Ali was a Kraftwerk album called Man Machine. So I referred to that.' '[It was you made me your man/Machine.']
The new album was released, through sheer coincidence, 40 years to the day that Iris died.
'Sometimes the things that have the most powerful influence over you are from way back. You're looking at the night sky and those beautiful stars - a lot of them are gone, even though you're still in their light. The idea that [Songs of Innocence] went out the same day, 40 years after she left us, is kind of magic.'
'
Invisible', released earlier this year to support the fight against AIDS, will feature on the physical album, coming in October.
'Invisible' is about U2's first ever journey to London. In fact, the album is "all about first journeys. California' is about first time in LA and all of that. 'Song for Someone' is about the awkwardness of falling in love and sex...'
The band needed a woman's touch on this album.
It arrived courtesy of Swedish singer-songwriter Lykke Li, who provides the hypnotic vocal to the chorus of 'The Troubles' (described as 'an uncomfortable song about domestic violence'). 'She puts us all under a spell with her music. We needed a feminine spirit; she was the right one.'
Expect a companion album, Songs of Experience, to arrive a little sooner than this one.
'I think Songs of Experience will come a lot quicker,' says Bono. 'But to explain the wait: we wanted to keep pushing up the level. We wanted songs that would stand up if you played them on an acoustic guitar or piano... eternal songs, the ones that people hold onto ... these songs are rare, they're like miracles, and they're almost impossible. If you hear 'Every Breaking Wave' played on a piano, you just fall over. And if it doesn't move you, you're either deaf or dead, or you should be.'
Bono challenged Steve Jobs to transform iTunes. A visually captivating digital format is in development.
'Five years ago I began a conversation with Steve Jobs. I said to him, 'For a person who cares about how things look and feel more than anyone else in the world, how is it that iTunes looks like a spreadsheet? Why can't we dip into artwork like we used to before with the gatefold sleeve? Why can't I disappear into a world created by artists? So he made a promise to me that we would work on this together, and we have ... It's not ready yet for Songs of Innocence; it will be ready for Songs of Experience. It's a new format. I'm very excited about that.'