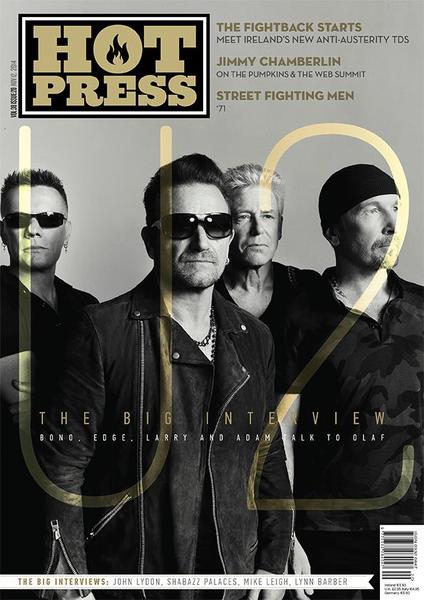 The
new edition of Hot Press
has just hit the streets.
Olaf Tyaransen caught up with the band on the plane to Germany. Here's some of the highlights.


On Dublin
'Once we figured out that it was about Dublin and our lyrical connection to the city, this kind of playground...we started working on ideas and it became evident that we actually had a two-record set coming into focus.
Songs of Experience
would be the forward-looking, maybe a bit more experimental, futuristic take on things. Bono has been playing around with some very interesting lyrical ideas, one of which is the old Bono and the younger Bono actually managing to have some conversations which I think is a great idea...'
Edge

On Songs Of Innocence
'It absolutely represents where we are as a band that's been around for a long time. I'm always a little bit wary about that thing of looking back and trying to rationalise where you came from, but I think in certain ways, it revitalised some of the things that made us. Looking back on that energy and intuition that we had as 18-year olds, as 20-year olds... it's amazing that we got from there to where we are now.'
Adam
On The Album Cover
'I'm holding onto him, but what you don't see in the picture is that he's holding on to me as well. There's 18 years in that picture and there's emotion and heartbreak and love and pain and all those things.. and nobody will know what that is. It's public but it's still got that intimacy and that's between him and I...'
Larry

On Dealing With Negative Reactions
'I have an umbrella. I've had it with me for 30 years now. When the shit-storm comes, as it continually does, I just put it up. You know the thing about (the song) 'Cedarwood Road', I realised that a lot of me still lives there. I'm still on that street. Still need an enemy. The worst ones, I can't say. I almost like all this. I must just need a row to get up out of bed in the morning because I keep finding myself in them...'
Bono