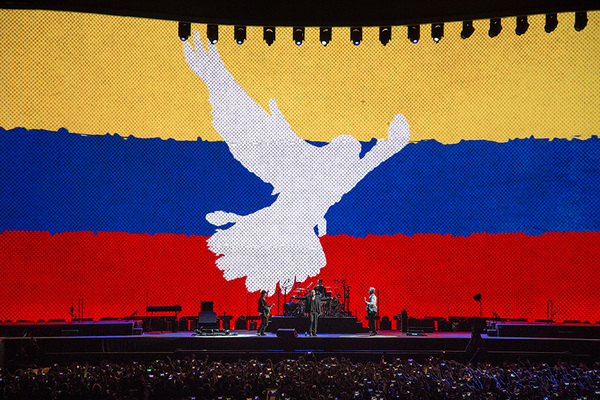 When & Where
Friday, October 7th, 2017, Estadio El Campin, Bogotá, Columbia. Night 44 of #U2TheJoshuaTreeTour.
Set List
Colombian fans had to wait for 41 years for U2 to come to their beautiful land and by all accounts it was worth it. "Colombia, we're finally here. Why did it take us so long?" Bono told the roiling crowd of more than 40,000 at Bogota's Estadio El Campin Satuday night. 'You are beautiful!' And they were. Standing on the tips of their toes, singing at the tops of their lungs as the band thundered through the opening quartet (Sunday Bloody Sunday, NYD, Bad, and Pride) before heading into 'The Joshua Tree.' The joy trinity—'Beautiful Day (with a snippet from 'Whenever, Wherever' by Colombia's own Shakira), Elevation, and Vertigo'—opened the encore followed by the new single from the upcoming 'Songs of Experience' album 'You're the Best Thing About Me,' and 'Ultraviolet.' And a very special rendition of 'One' ended this historic night. Colombia is the only stop on the #U2TheJoshuaTreeTour that the band is playing for the first time.
Here's the complete set list from Bogota.
Social Posts
@AdrianaMRico: Hoy me levanté sintiéndome feliz. Anoche, fue algo maravilloso: Luna llena, cielo despejado, @U2 en Bogotá y yo cantando a grito herido
@JHoyosJr: Ver a @U2 en Bogotá, 30 años después de la primera vez en Miami 1987, y ellos todavía "blow my fucking mind away" Que privilegio. The best!
If You Had To Pick One Song
'One' - 'We're one, but we're not the same/We get to carry each other…'
@Felipe_Castro: This is for Colombia... We got to carry each other, carry each other... ONE #U2 #Bogota #joshuatreetour2017
'Change comes slowly, but it comes,' Bono began his introduction to 'One', which closed the show. 'Now growing up in our country, a country in the north Atlantic in Europe, called Ireland. Growing up in this little country, we didn't dare to dream of peace. People told us it was impossible. Until we realized that peace is not a dream, it's an action.
'It's not soft. It's hard. It takes time. Ya know, this word, this beautiful word we spoke of earlier—compromise—it's a beautiful word. And we know that peace can never remedy the pain of the past, we know that. But it can prevent such pain in the future. Anyway, we stand with you in these fragile times. We have to carry each other. Tenemos que apoyamos el uno al otro!
What (else) did Bono Say?
'Sing for the peacemakers in Bogota, in Cali, in Medellin,' he said during Pride, listing Colombia's major cities. 'All across Colombia. Sing for the peacemakers. Let them hear you! Sing for the peacemakers in Ireland. In our country, we have peace because people had the courage to compromise. The most beautiful word in the English language is 'compromise'… No one won. That's why everybody one.'
Shout Outs
Bono lauded the late Colombian author and poet Gabriel García Márquez, considered the father of literary genre known as magical realism, with novels such as One Hundred Years of Solitude and Love in a Time of Cholera. During 'Bad' Bono called for Willie to turn the house lights down so he could see 'the butterflies … Gabo's butterflies'—as butterflies were emblematic of the magical creatures that populated the worlds García Márquez created. The author affectionately known as 'Gabo' spent many years in Mexico City, where he died in 2014, but his ashes are interred in Cartagena, Colombia, where he attended college and got his start as a journalist. 'He was a hero to us,' Bono said, 'a hero since our teenage years. Sing for him!'
During 'Pride' Bono gave a shout out to former Pink Floyd front man David Gilmour. Also mentioned during the two-hour concert were Colombian footballer James Rodríguez (Bayern, Real Madrid, captain of the Colombian national team), artist Fernando Botero, and architect Simon Velez.
In The Press
Review from El Colobiano
'After nine o'clock at night, the turn was finally for Bono and his court, with his new show 'The Joshua Tree' tribute to the 30 years of the publication of this, one of his great albums.
…A show full of legendary songs in the middle of which Bono launched all kinds of messages, where he did not stop naming Gabriel García Márquez, Fernando Vallejo and even James Rodriguez.
But in addition to thanking the patience of the Colombians for so many years waiting for U2 to arrive in the country, throughout the concert were constant messages on reconciliation and the search for a country to stay away from war.
After Sunday Bloody Sunday, the concert was filled with the best of the repertoire of these Irishmen, with a good dose of what Bono called Side B, with good songs that were never released on the world's radio stations….The evening concluded with 'One', at which time the giant screen presented a huge flag of Colombia with the famous dove of peace, which moved many of the audience to El Campin.
Other Noteworthy Stuff
Among the 'luminous icons' of the HERSTORY installation that accompanied 'Ultraviolet' Saturday night were severa local Colombian sheroes including Policarpa Salavarrieta—otherwise known as 'La Pola' she was a spy for the Revolutionary Forces during the Spanish Reconquista of the Viceroyalty of New Granada and eventually executed for high treason; she is considered Colombia's heroine of independence and even appears on Colombian currency. Totó la Momposina (aka Sonia Bazanta Vides) the beloved Afro-Colombian singer, and Olympic jumper Caterine Ibargüen, who won a gold medal at the 2016 Olympics for the triple jump. 'Incredible women,' Bono said. 'Women of courage and conviction who changed the world around them. We love these women.'
Reviews via Facebook and U2.com
Marcela González is perhaps Colombia's most devoted U2 fan. Several years ago, with the help of other fans, she started a campaign 'from the ground up' to bring the band to Colombia for the first time. On Saturday night. Marcela's wish came true when the band took to the stage at Bogota's Estadio El Campin just after 9 p.m. local time. Here are a few of Marcela's thoughts after the two hour show concluded:
'Yesterday was a really great experience, to be with my friends, knowing how many times we spoke about that, see us in our country so many times,'said Marcela, who, through her U2 Colombia Facebook Group compiled more than 3,000 'flash mob packs' distributed on the day of the concert that contained balloons (meant to represent the colors of the Colombian flag at the beginning of the show), glow sticks (for 'Beautiful Day'), and white handkerchiefs (to be waived during 'Bullet the Blue Sky').
'I was happy when I saw the balloons and the handkerchiefs, having a great performance, people was happy, I hope the band like it… because I really wanted to see them happy,' she said. 'They did a lot of beautiful things for us, 'Ultraviolet', was great, amazing to see those beautiful Colombian women in the screen, that beautiful flag at the, and, PAZ, PAZ for Colombia.'
Were you at the show in Bogota? Tell us all about it. Add your own review and photos on our tour pages.